Products – Break Panels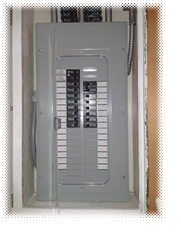 All the wiring in your house eventually works its way back to your breaker panel. Think of the breaker panel as the brain that operates all the electrical in your home. A break down at the panel can affect the electrical and overall safety of your entire home.

Having a quality breaker panel that evenly distributes your electrical load, is easy to operate and most importantly safe should be a standard in everyone's home.

We offer breaker panel upgrades and replacements depending on what you need. Including both aluminum and copper service wiring






Economy Panel – Our economy model is an affordable option for most homes. It includes:

Standard Breaker Panel
Aluminum Wiring
Standard Breakers
5 Year Warranty on the bus bar



Premium Panel – For a little more money you can upgrade to our premium panel. It includes:

Premium Breaker Panel
Copper Wiring
Flag Tripped Breaker, which tells you exactly which breaker was tripped
10 Year Warranty on the bus bar
If your home was built between 1950 and 1990 and is equipped with a Federal Pacific with Stab Lock breakers you run a significant risk or breaker malfunction and an electrical fire. If you are not sure if you have this risk please call us today to have us come out and take a look.
Whole House Surge Protector
– This feature can be added to either of the panels above as an add on option. With more and more homes having sensitive electronics plugged in including computers, cell phones, tablets and Televisions having a surge guard is very important for their protection. We also can install surge protection outlets for specific outlets that will have sensitive electronics plugged into them such as a home office where a computer is plugged in or family room where a television is at.
However purchasing the cheap surge guards at the store don't always give you the best protection. We can install a whole house surge guard which protects every outlet against surges, lightning strikes and other overloads which could ruin sensitive electronics.